With more than 30 years' experience, Cameron Law is committed to providing the highest quality of professional and ethical legal services.
We will communicate with you in plain language, not in complicated legal jargon. We specialize in "house calls". We will meet with you in your living room, kitchen, or office. We are mobile and will travel throughout Calgary.
To schedule a meeting with Neil Cameron please call, email, or send us a message today.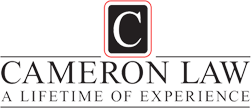 Send a Message
[contact-form-7 id="124″ title="Contact page form"]
Subscribe to Our Newsletter